This call has been closed.
Call for candidates
Japanese government

(MEXT) scholarship research students

on Global Advanced Assistive Robotics (GAAR) CourseThe course will include the design and implementation of intelligent systems that would provide solutions to industry, medical welfare, and multidisciplinary subjects such as integrated circuits, control, sensing, nano-systems, computer systems, machine learning, cognitive and behavioral science, neuroscience, brain-computer interface, and collaborative learning with Japanese students.
Note that it is not necessarily too specific to "assistive" robotics. And

no Japanese is required to get the degree

.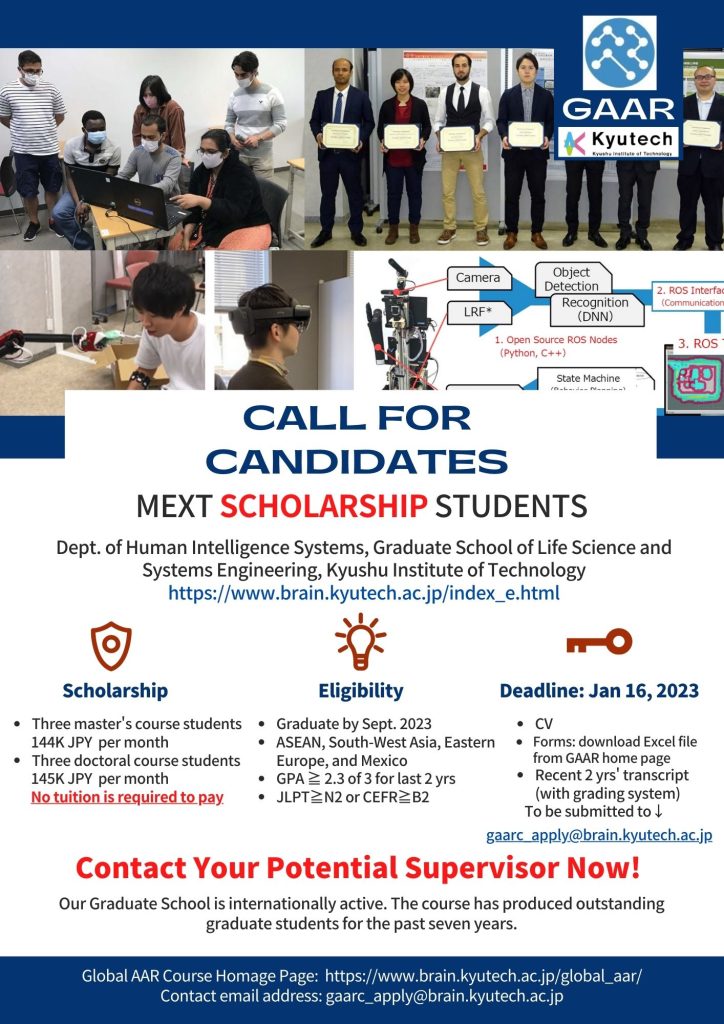 If you are interested in this scholarship program,

contact your potential supervisor ASAP and get their likely acceptance

. After getting the possible approval, you need to develop your research plan and discussing with your potential supervisor. If you have no idea about a potential supervisor, please watch Dept. Human Intelligence Systems (kyutech.ac.jp) and investigate Dept. Human Intelligence Systems (kyutech.ac.jp).
The application deadline is Jan 16, 2023, but please

apply ASAP

to accelerate our screening and interview process.

We will finish selecting the final candidates by around Jan 23, 2023

, after the screening and the interview.
Contact address for further questions or information: gaarc_apply@brain.kyutech.ac.jp
Download